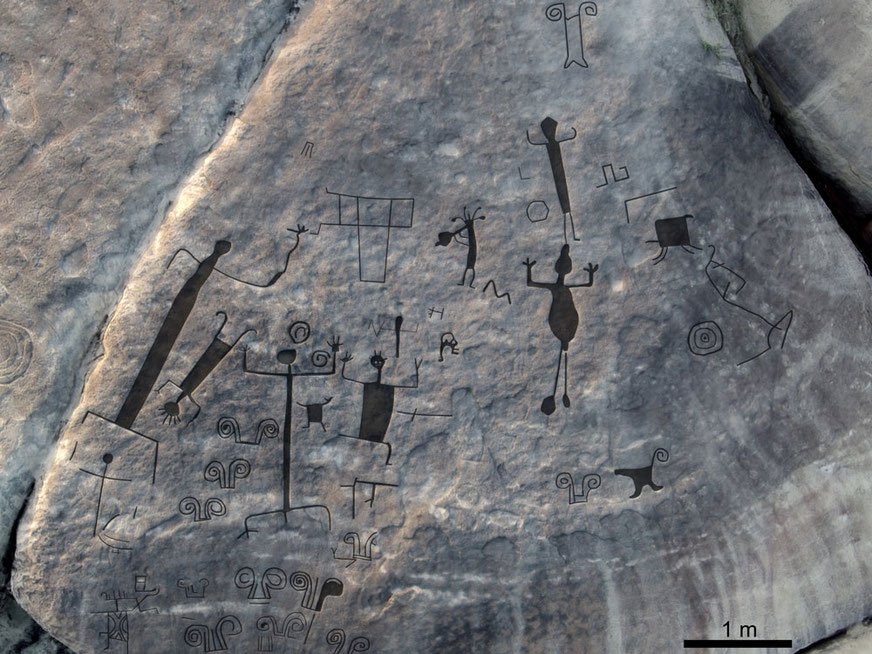 Archaeologists from University London College (UCL) have documented massive rock art panels along the Atures Rapids area of the Amazonas State in Venezuela.
Researchers think the petroglyphs (images pecked or carved into rock faces) are around 2,000 years old, and some of the panels, or collection of images, are huge.  One of the largest panels is over 3,000 square feet in size and contains 93 images.  
Images include both humans and animals, and some depict what UCL researchers are calling a possible rite of renewal.  For example, one petroglyph motif includes a group of people surrounding a person playing a flute.  Animal glyphs include a horned snake that is over 90 feet long.
When describing the cultural groups and associated rock art of the Atures Rapids area, team member Dr. Philip Riris of the UCL Institute of Archaeology said,   
"The Rapids are an ethnic, linguistic and cultural convergence zone. The motifs documented here display similarities to several other rock art sites in the locality, as well as in Brazil, Colombia, and much further afield. This is one of the first in-depth studies to show the extent and depth of cultural connections to other areas of northern South America in pre-Columbian and Colonial times."
The research is part of the Cotúa Island-Orinoco Reflexive Archaeology Project, funded by the Leverhulme Trust.
Principal Investigator for the project, Dr José Oliver (UCL Institute of Archaeology), said: "Our project focuses on the archaeology of Cotúa Island and its immediate vicinity of the Atures Rapids. Available archaeological evidence suggests that traders from diverse and distant regions interacted in this area over the course of two millennia before European colonization. The project's aim is to better understand these interactions."
Dr. Oliver also says that documenting and mapping the rock art of the area will provide a greater understanding of how the landscape, particularly the Orinoco River, influenced how social networks were formed in the region prior to European incursions.
The group has written an article, "On confluence and contestation in the Orinoco interaction sphere: the engraved rock art of the Atures Rapids," which details the results of their work and was published in the journal Antiquity.