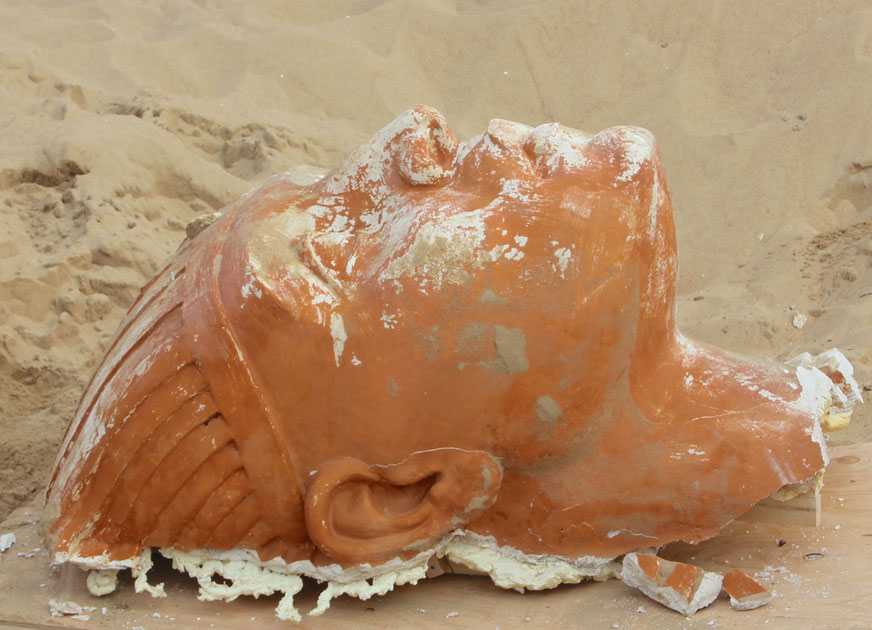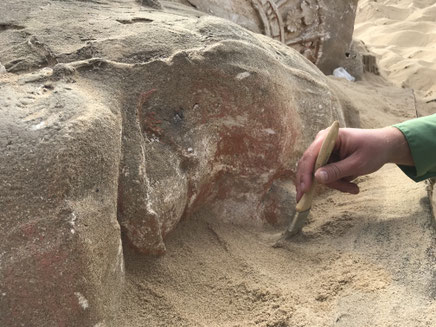 Archaeologists working in Guadalupe-Nipomo Dunes, California have uncovered a 300 pound plaster sphinx head, a relic of Cecil B. DeMille's 1923 movie, "The Ten Commandments."
The elaborate movie set, constructed 95 years ago, consists of 21 sphinxes, massive temple gates and a backdrop 12 stories high and 800 feet wide.  
According to legend, when filming wrapped, the set was too expensive to move and far too valuable to leave in behind where any rival filmmaker could make use of it.  DeMille's creative solution was to bury the set in place and walk away.
But, while the set may have been lost under a sea of sand, whispers of its existence have persisted through time.  Now the Guadalupe-Nipomo Dunes Center, a natural history museum in Guadalupe, California, has hired archaeologists to uncover, restore, and preserve the remains of the monumental set.
The 300 pound plaster sphinx head is just the latest find.  According to the Los Angeles Times, archaeologists have also found a nearly intact sphinx body.  The plaster statues were hollow, and says the Times, "paper thin" and filled with sand by the time archaeologists found them.
Doug Jenzen, executive director of the Guadalupe-Nipomo Dunes Center, told Los Angeles Times reporter Hailey Branson-Potts that working with the fragile plaster statues was "like working with a hollow chocolate rabbit."
Jenzen  also says the paint used to decorate the newly uncovered sphinx head in still intact.  The paint, according to Jenzen, is remarkable because of its "extremely intense colors," an interesting detail given the movie was filmed in black and white.  Jensen says the color pallet just proves we are still learning aspects of how films were made in the 1920s. 
Other artifacts found onsite include prohibition liquor bottles, makeup, and tobacco tins.  The items, to include the sphinx head and body, will be housed at the Dunes Center museum with an unveiling planned for summer 2018.