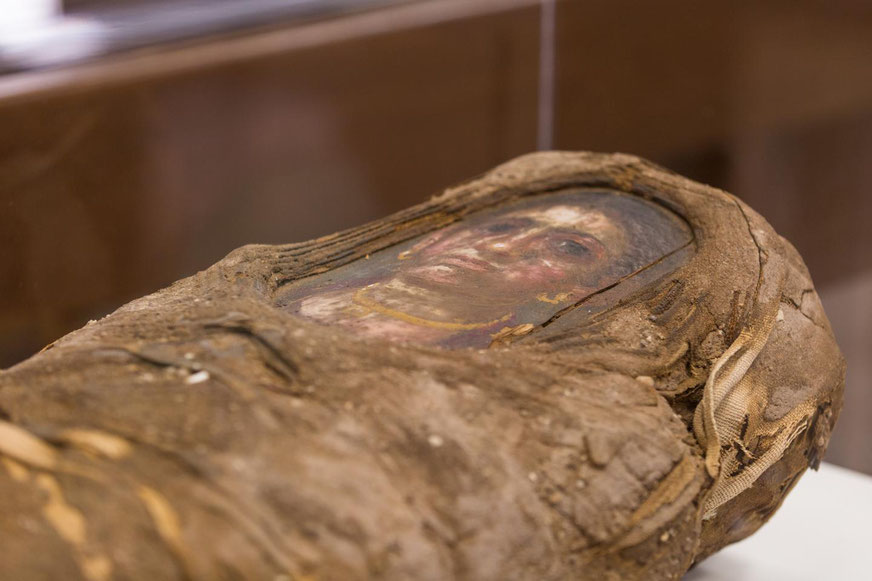 A rare 1,900 year old Roman-Egyptian portrait mummy has been scanned using a high tech synchrotron machine in an effort to unravel the mummy's mysteries.
As its name implies, a portrait mummy is one in which a painting of the deceased's face has been incorporated into the mummy wrappings.  But what lies beneath the wrappings? What is there to learn about disease, technology, and mummification techniques from the ancient remains?
Those are questions a group of professors and students from Northwestern University want to answer.  To that end, they've taken a portrait mummy housed at the university's Garrett-Evangelical Theological Seminary, and scanned it with a synchrotron. 
A synchrotron is a gigantic machine that speeds up electrons, directs the light emitted by the sped up electrons into "beamline" laboratories, and basically creates an x-ray image on steroids.  Scientists are able to see whatever they are studying on an atomic level.
The portrait mummy they've bombarded with light is that of a young girl, barely three feet tall, wrapped in elaborate geometrical patterns, and depicted as wearing a crimson tunic and gold jewelry in her portrait.    
The mummy, discovered in Egypt in 1911, is one of only 100 portrait mummies in the world, according to a statement by Northwestern University.  Researchers led by Stuart R. Stock, research professor of cell and molecular biology at Northwestern, say they will use the synchrotron results to identify specific materials used during the mummification process and they say their work will help conservators preserve the mummy. 
So far the group has not officially published the results of their tests, but the young girl's mummy is slated to be part of an exhibition called "Paint the Eyes Softer: Mummy Portraits from Roman Egypt."  The display will also feature a collection of portraits that were removed from their mummies at some point in time.  The portraits are on loan from the Phoebe A. Hearst Museum of Anthropology at the University of California, Berkeley.
"Paint the Eyes Softer: Mummy Portraits from Roman Egypt" will be on display at Northwestern's Block Museum of Art from January 13 to April 22, 2018.