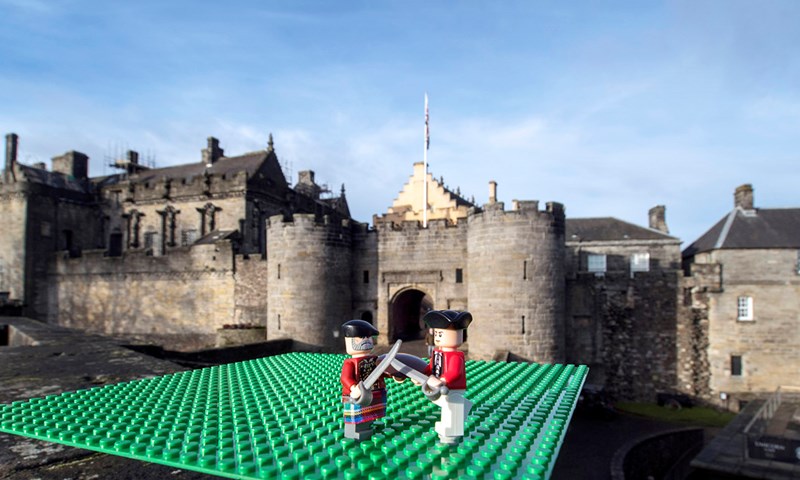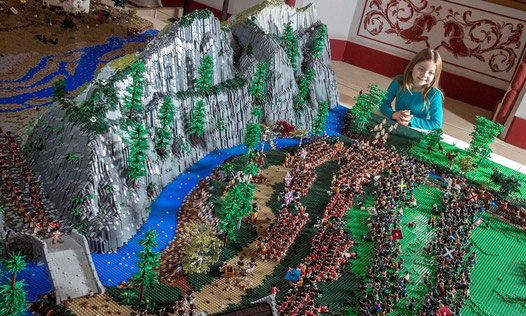 Move over William Wallace, Scotland's Sterling Castle has a new display!  The Jacobite Risings: The Fight for Britain's Throne has been immortalized in LEGOs.
The Jacobite uprising was a nearly century long fight between supporters of James II (Jacobus in Latin hence the name Jacobites), king of England, Scotland, and Ireland from 1685 to 1688 and his replacements, William III and Mary II.  
James II was Roman Catholic and threatened to upend the Anglican church among other things, so he was deposed in the so-called "Glorious Revolution" or "Bloodless Revolution" of 1688.  His daughter Mary II and her husband William III then took the throne.  Not everyone was happy about the new arrangement and the Jacobite uprising began
The Jacobite movement was sustained thanks to a growing angst among Scots over their treatment by William.  As Louise Yeoman wrote for the BBC, 
"…to the die-hard believers in the hereditary right of James were added the dissatisfied. Jacobitism became a magnet for almost anyone with a grudge against the government. The Union [between Scotland and England] of 1707 then produced what was for many Scots the grudge to end all grudges."
For the next 57 years, there were periodic skirmishes and uprisings. However, the Jacobites were largely crushed by the massive defeat of Bonnie Prince Charley at Culloden in 1745.  By 1788 the Bonnie Prince was dead and so was the movement.
So how does one capture the essence, the spirit, and the blood of a one hundred year revolution in plastic blocks beloved by children the world over?  
One scoops up one million LEGO pieces and turns to Brick to the Past, a volunteer group of people who have managed to merge their twin loves of LEGOs and history.  To celebrate the Jacobite slice of life the group has built a nearly 20 foot by 10 foot Lego diorama depicting major locations involved in the Jacobite revolution, such as Corgarff Castle and Ruthven Barracks.  They even found space to pack in 2,000 adorable little Lego soldiers.
Brick to the Past's Dan Harris said in a statement, 
"We had a great time designing and building its different parts, from the Jacobites themselves to the major buildings…."
"It also gave us an opportunity to take on Scotland's dramatic landscape, so we have built mountains, rivers, forests and animals that are designed to represent those of the highlands."
Liz Grant, Executive Manager of Stirling Castle, said, 
"We're very excited to be bringing this exhibition to Stirling Castle – the first time it will go on display in Scotland."
"LEGO offers a fun way to engage younger audiences with our historic sites – and I'm sure it will prove popular with 'big kids' too!"
The Jacobite Risings: The Fight for Britain's Throne is on display at Sterling Castle through February 2, 2018.