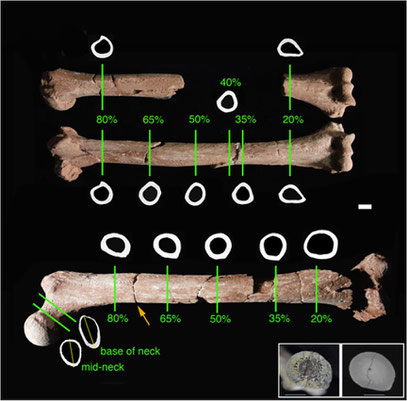 Lucy, the first Australopithecus afarensis ever found, likely spent more time in the trees than previously thought.  Discovered in the 1970s (and yes, named after the Beatles song), Lucy's 3.2 million year old remains generated intense excitement in paleoanthropological circles because she represented a new species discovery and she was the oldest biped ever found.
Very quickly researchers knew she walked upright, but at the same time Lucy had traits associated with arboreal creatures (e.g. long arms relative to their legs).  And so for decades, the question has been, were these arboreal traits nothing more than evolutionary leftovers waiting to be pruned from the human tree or were they functional traits indicative of multiple locomotive strategies?  
Enter researchers from Johns Hopkins University and the University of Texas, Austin.  The group, led by Christopher B. Ruff*, have conducted micro-CT scans of Lucy's femur and humerus in order to assess mechanical loading, determining the relative strength of the upper and lower limbs.  Micro-CT scans were used to create 3D models from which cross sections were taken and various measurements obtained.  The data was then compared to that of modern humans, Homo erectus, and chimpanzees.  
Based on their research Ruff et al. say that while Au afarensis was distinctly bipedal, its gate was less efficient than modern humans, and its upper to lower limb strength ratio was closer to chimpanzees than to modern humans or Homo erectus.  They argue that the substantial strength loading of the upper extremities means that arboreal locomotion was a major component of Au afarensis life instead of an evolutionary holdover.  They further state that the muscular strength revealed in their analyses has implications for metabolic tradeoffs between organs and the evolutionary track of hominin brain size.   
Ruff et al. published their work in PLOS ONE and the full text of their article is available here. https://doi.org/10.1371/journal.pone.0166095
* Ruff CB, Burgess ML, Ketcham RA, Kappelman J (2016) Limb Bone Structural Proportions and Locomotor Behavior in A.L. 288-1 ("Lucy"). PLoS ONE 11(11): e0166095. doi:10.1371/journal.pone.0166095