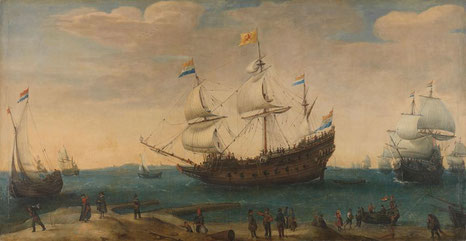 British and Dutch archaeologists are going to partially excavate the Dutch East Indian Company vessel, Rooswijk.  The ship, sunk in 1740 near Kent, England, is being damaged by currents and other environmental factors, prompting the archaeological action.  
The Dutch East India Company (VOC), in operation from 1602 to 1799, began as a massive shipping enterprise that expanded the Dutch empire into the East Indies and dominated trade throughout the region for years.  Officials believe the Rooswijk will offer a more comprehensive glimpse into the Dutch East India Company and seafaring vessels of the time because it will be the largest scientifically excavated and researched VOC wreck to date.
In explaining the importance of the Rooswijk project, Dutch Minister of Education, Culture, and Science, Jet Bussemaker said:
"Increasingly we realise that these traces of our maritime past, of which many rest invisible on the sea floor, are an important part of our identity. Shipwrecks are time capsules that provide a unique view into the past and tell us a story. The two centuries of VOC are part of that story and our collective memory, including everything we are still proud of, but also from which we are ashamed. The archaeological information we can gain from this wreck is a unique tangible and objective source and extremely valuable to describe this period in history."
Work on the shipwreck is expected to start in July and continue into October 2017.