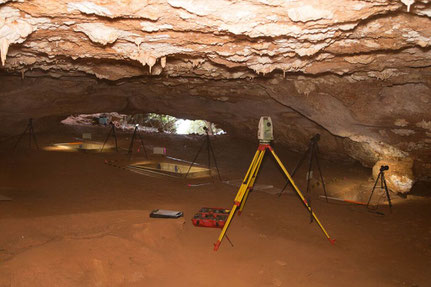 A group of international researchers led by Professor Peter Veth of the University of Western Australia, has excavated a cave site on Barrow Island off the coast of Western Australia and unearthed evidence of human occupation dating as far back as 50,000 years ago.  According to Professor Veth, 
"The cave was used predominately as a hunting shelter between about 50,000 and 30,000 years ago before becoming a residential base for family groups after 10,000 years ago. It was abandoned by about 7,000 years ago when rising sea levels finally cut it off from the mainland,"
Veth also says that the cave has provided the most extensive aboriginal dietary record found in Australia.   Coastal archaeologist and team member Professor Sean Ulm of the James Cook University stated, 
"We know that the earliest Australians were seafarers as they came to Australia by boat. But until now we have known very little about these first coastal peoples. This new discovery, with its extraordinary preservation of archaeological remains, gives us with a glimpse of the lives of the people who lived on the coast in the distant past,"
The group's research, published in Quaternary Science Reviews, was conducted with participation and support by the Buurabalayji Thalanyji Aboriginal Corporation and Kurum Marthudunera Aboriginal Corporation, was funded by the Australian Research Council, and included team members from the University of Western Australia, James Cook University, The University of Queensland, the University of Waikato, the University of Adelaide, Sacramento State University, Curtin University, Oxford University, and the WA Department of Parks and Wildlife.