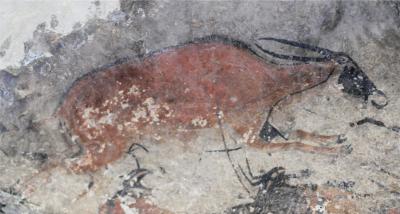 Researchers have directly dated rock art from southern Africa, producing the first radiocarbon dates for rock art from Botswana and Lesotho, adding to a pool of dates obtained from rock art sites in South Africa, and creating a new protocol for directly dating ancient rock art images.
The research group included Adelphine Bonneau from the Université du Québec à Montréal, as well as scientists from the University of Witwatersrand, the University of Oxford, and Cranfield University.
To obtain carbon dates, the team directly sampled pigments used in the artwork, focusing on "carbon-blacks" created by organic material with a short lifespan.  Their selection of carbon-black pigments was based on the idea that if the organism used to produce the black paint had a short life cycle then dates obtained from the black paint should be contemporaneous to when the black paint was used.
Bonneau stated in a press release, 
"This protocol is a step forward in the field of rock art dating by reducing the sample size to be collected, by optimising the success rate of such dating, and by limiting the impact on such valuable paintings while providing new chronological insights."
Rock art samples from southeast Botswana produced dates between 5,723 and 4,420 years ago, which, according to the research team, are the earliest rock art dates yet obtained in southern Africa.  The group also found that various sites in the region were used repeatedly for over 1,000 years.
Their work was published in the journal Antiquity.  DOI: https://doi.org/10.15184/aqy.2016.271