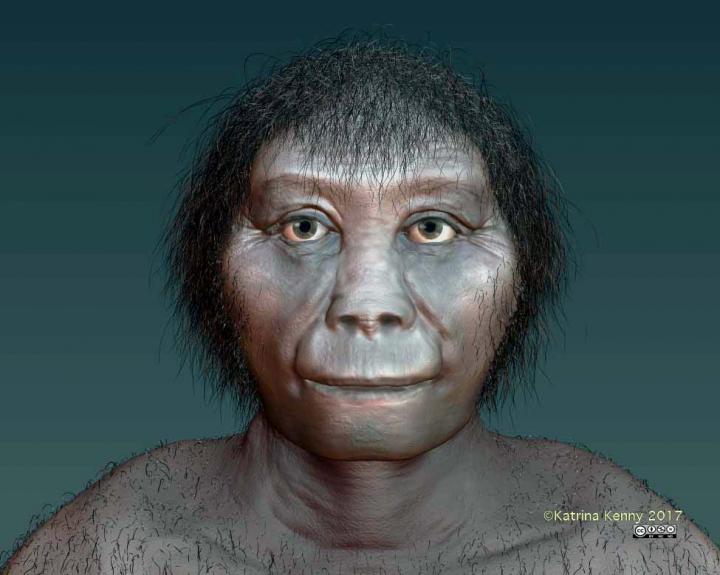 Homo floresiensis, more commonly referred to as "the hobbits" due to their small size, has a new home in the evolutionary tree according to a study led by Dr. Debbie Argue of the Australian National University.   
Scientific debate over how Homo floresiensis fits in the phylogenic tree has raged since the species was first discovered on the Indonesian island of Flores in 2003.  According to Argue et al., three main hypotheses have emerged: 
the hobbits are descendants of Asian Homo erectus and evolved a smaller body size, possibly because of resource scarcity; 
the hobbits are descendants of a very early Homo species with African roots;
the hobbits are diseased Homo sapiens and not a distinct species at all.
Argue et al., performed a comprehensive analyses of Homo floresiensis in which they statistically compared 133 skeletal data points to and between 11 other hominin species, chosen because they have been proposed as being closely tied to Homo floresiensis and because they are well represented skeletally (i.e. enough skeletal material has been found over the years for there to be something to compare the hobbits with).
Based on their analyses, Argue et al. concluded Homo floresiensis is likely a "sister" species to Homo habilis or to a clade that includes Homo habilis, further stating:
"The results suggest H. floresiensis is a long-surviving relict of an early (>1.75 Ma) hominin lineage and a hitherto unknown migration out of Africa, and not a recent derivative of either H. erectus or H. sapiens."*
Their work was published in the June 2017 volume of the Journal of Human Evolution and can be found online here: https://doi.org/10.1016/j.jhevol.2017.02.006
Argue, Debbie, Colin P. Groves, Michael S. Y. Lee, William L. Jungers. "The affinities of Homo floresiensis based on phylogenetic analyses of cranial, dental, and postcranial characters." Journal of Human Evolution. Vol. 107, June 2017, Pages 107-133. DIO: https://doi.org/10.1016/j.jhevol.2017.02.006.
*Argue et al. 2017, Abstract: sentence 10, line 18.