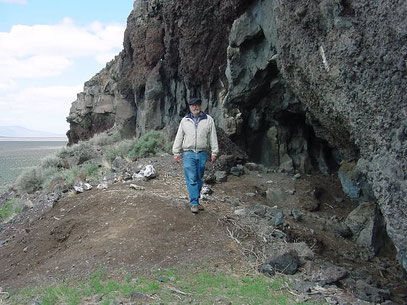 Have you or someone you know ever had bed bugs?  Have you ever looked at a bloated bed bug specimen and wondered, "if they went after creatures without beds, would we still call them bed bugs?"  As it turns out, those pesky little blood suckers, whose very existence is an affront to personal space, do have cousins that prey upon other animals.  They aren't called bed bugs though they are in the same genus (Cimex), and, as it turns out, they've been around for a really long time.
Excavations at the Paisley Five Mile Point Caves, or Paisley Caves as the archaeological site is common known, have uncovered the remains of 11,000 year old bed bug cousins - the oldest ever found by about 7,500 years.  
Paisley Caves is the archaeological site that keeps producing remarkable finds.  Excavations at the site have uncovered 13,000 year old human coprolites (poop) from which DNA was extracted and stone tool technologies that are among the earliest types documented in North America.  And now, bed bug cousins.  So what's next?  According to a press release advertising the Cimex research by Adams and Jenkins, the next step is to figure out why the bed bug cousins didn't make the leap to full fledged bed bugs bugging humans.  The bug parasite found in Paisley Caves attack bats.  The prevailing theory is that the species that attacked bats adapted preying on humans thousands of years ago when humans and bats shared cave space.  For some reason the Paisley Cave bugs did not make the leap from bats to humans and Adams wants to know why.  Questions he seeks to answer include:
"Were the cimicid populations too small to establish themselves outside the caves, or were the host populations too small?" 
"Given that Paisley Caves was only a seasonal occupation area for human hunter-gatherers, did the humans move around too much, or were the bugs not able to withstand the environment outside the caves for very long? Or, were there other constraints involved? I'm working on these last few archaeological questions right now."
We await his answers.  In the meantime, the Adams, Jenkins article was published in the April online version of the Journal of Medical Entomology.  DOI: https://doi.org/10.1093/jme/tjx057
Martin E. Adams, Dennis L. Jenkins; An Early Holocene Record of Cimex (Hemiptera: Cimicidae) From Western North America. J Med Entomol 2017 tjx057. doi: 10.1093/jme/tjx057