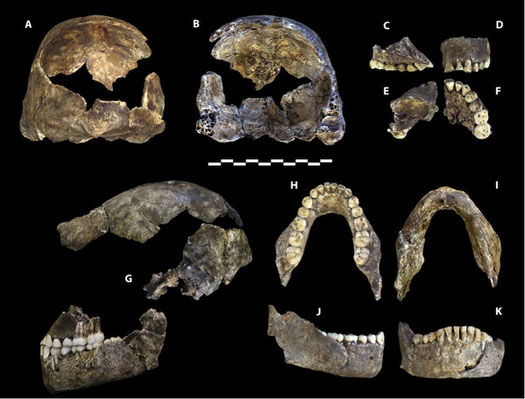 Homo naledi, a hominin species discovered in a South African cave in 2013, now has a scientifically tested date range. Our Homo cousin lived between 236,000 and 335,000 years ago, making the species significantly younger than many scientists predicted.
The Homo naledi finds are remarkable for many reasons, not the least of which is the abundance of fossil material recovered.  Researchers working in 2013 uncovered 1550 specimens representing at least 15 H. naledi individuals, making the discovery the largest assemblage of one hominin species ever found in Africa.  
Morphologically, Homo naledi has a human-like hand, wrist, and foot coupled with a more australopith-like shoulder, pelvis, and upper femur.  Overall morphology led many researchers to tentatively place Homo naledi near the beginning of the Homo line.  However, results of extensive  dating techniques, to include uranium-thorium disequilibrium, electron spin resonance, radiocarbon, optically stimulated luminescence, and paleomagnetic analyses, show that Homo naledi lived concurrently with our early human ancestors.
The dating techniques used in the study were tested on three of the fossilized teeth and on surrounding cave sediment.  Samples collected were sent to various labs in a double blind study.  The research was carried out by Dirk et al. and their report was published today in eLife.  The full text of their report lives here. https://elife.elifesciences.org/content/6/e24231#