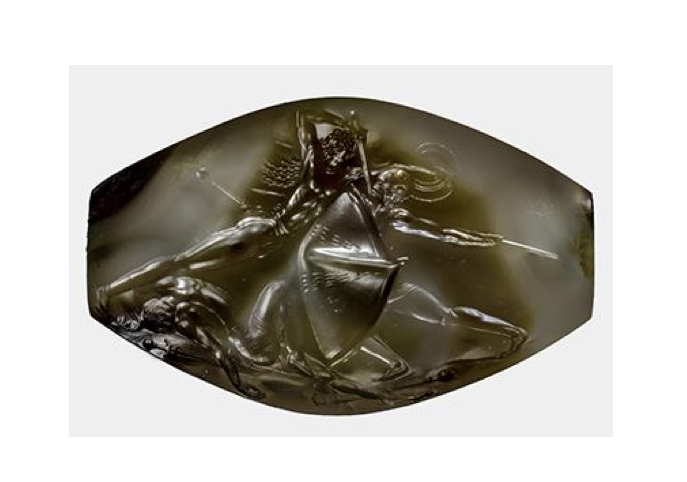 Archaeologists from the University of Cincinnati have uncovered a tiny agate sealstone, less than an inch and a half long, upon which an epic battle scene has been sculpted.
The 3,500 year old sealstone, used to stamp correspondence, was found alongside the "Griffon Warrior," a Mycenaean priest or warrior buried in a tomb near the ancient Palace of Nestor in Pylos, Greece.  The Mycenaeans were precursors to the more famous "ancient Greeks" of the Classical Period (for Classical Period Greece, think Athens at its most powerful).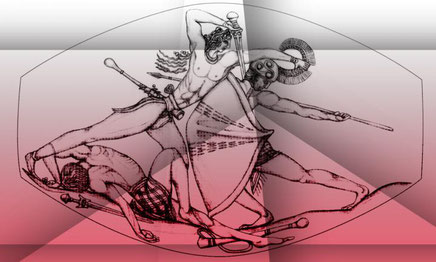 The Griffin Warrior's tomb was discovered by University of Cincinnati archaeologists Sharon R. Stocker and Jack Davis in 2015.  The pair have been working at the site ever since and have reported some amazing finds to include four gold signet rings and an ivory carving of a griffin from which the warrior got his name.
However, the agate sealstone is quite possibly the most extraordinary object to emerge from the excavation.  But, despite finding the tomb in 2015, archaeologists have only just now gotten a glimpse at the exquisite bas-relief because the agate was encased in limestone covering so thick it took conservators nearly two years to remove. 
Nonetheless, as the limestone slowly gave way to the agate underneath, an image of a longhaired, scantily clad warrior, one vanquished enemy at his feet, plunging his sword into the neck of a spear wielding soldier equipped with a massive shield emerged.  
In a statement, Dr. Stocker says, "Looking at the image for the first time was a very moving experience, and it still is."
Dr. Davis says, "Some of the details on this [sealstone] are only a half-millimeter… [in size]. They're incomprehensibly small."  
He went on to say,  "What is fascinating is that the representation of the human body is at a level of detail and musculature that one doesn't find again until the Classical Period of Greek art 1,000 years later. It's a spectacular find."
The pair has written an article about the sealstone which will appear in the next issue of Hesperia: The Journal of the American School of Classical Studies at Athens.  For more details about the Palace of Nestor, the excavation of the Griffin Warrior, and other artifacts found in the tomb, take a look at this video of a lecture given by Dr. Stocker in 2015.