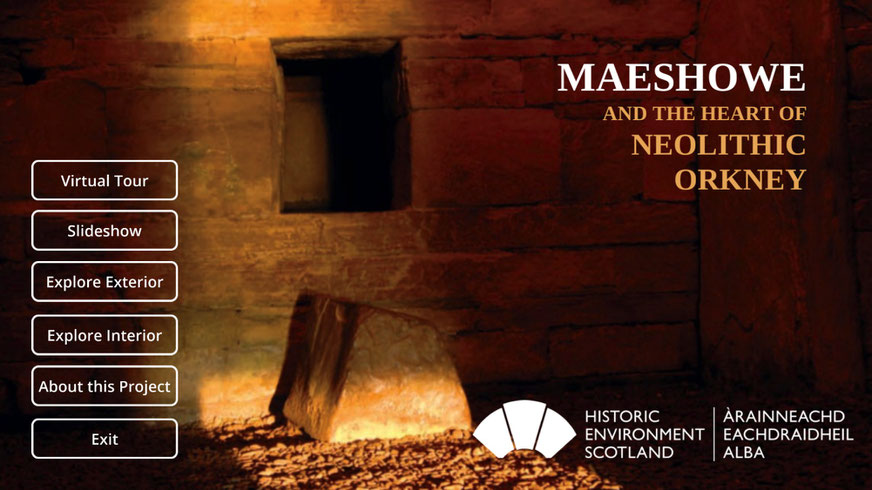 Historic Environment Scotland has partnered with the Glasgow School of Art to create an app that lets users take a virtual tour of Maeshowe, a massive chamber tomb, older than Stonehenge, and central to the Orkney archaeological complex.
Orkney is an archipelago just north of Scotland and its islands are home to some of the most stunning archaeology in Western Europe.  The core archaeological sites, consisting of henges, settlements, and burials, are collectively known as "the Heart of Neolithic Orkney" and have been placed on UNESCO's World Heritage list.
The sites, which paint a picture of life on the islands 5,000 years ago, have dramatically colorful names like the Ring of Brodgar, the Stones of Stenness, Maeshowe, and Skara Brae.
Historic Environment Scotland decided to focus on Maeshowe, and with the Glasgow School of Art, gathered up some high tech equipment, took 3D scans of Maeshowe and the surrounding landscape, and built an interactive app.
The free app, which I downloaded and took for a test drive today, let's you climb to the top of Maeshowe and gaze at the surrounding landscape in 360 degrees.  After you've had your Lion King moment, (Look Simba, everything the light touches is our Heart of Neolithic Orkney), you can channel your inner Howard Carter and explore the insanely impressive interior chambers.
To give your virtual journey some context, the programmers have built in little icons that you can tap to learn more about what you're looking at.  If you tap the ones inside Maeshowe you'll find that a group of Vikings, taking a break from Crusading, took refuge in Maeshowe and graffitied the walls as they waited out a snow storm.  They left little runic pearls, many of them on par with "I was here, 2017," proving a quirky, vandalizing consistency within the hearts and minds of Western Europeans and Euro-Americans through time.
The app is available for iOS and Android.  I downloaded the iOS version on my brand new, shiny, drool inducing…I digress… iPhone 8 plus and it worked splendidly.  No bugs, hiccups, or irritating buffering - just a fun and informative tour of a spectacular ancient monument.
For those of you who'd like to go on your own virtual tour but would like to find the app on your own, it's called "Explore Maeshowe."
For those of you who'd like to go on your own virtual tour but would like some handy links, this one will take you to the Android version and this one will take you to the iOS version.  Enjoy!