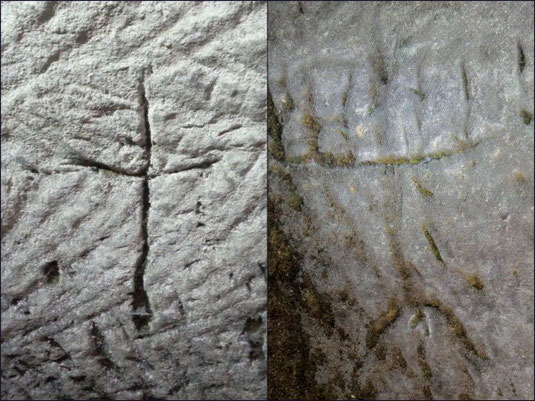 Hikers exploring a cave in Israel over the weekend stumbled across a previously unknown habitation site.   The site, located in a cave in the Judean Shepelah region, is particularly exciting because a menorah and a cross were found etched into a cistern carved into the cave wall.  According to the Israel Antiquities Authority, the menorah dates to the Second Temple period (530 BC to AD 70) and is an exceedingly rare find.  Israel Antiquity Authority archaeologists are basing the date on the style of the menorah as well as other features found in the cave.  They believe the cross was added much later.
According to Sa'ar Ganor, the Israel Antiquities Authority District Archaeologist of Ashkelon, "The menorah was probably etched in the cistern after the water installation was hewn in the bedrock – maybe by inhabitants of the Jewish settlement that was situated [near the cave] during the Second Temple period and the time of Bar Kokhba – and the cross was etched later on during the Byzantine period, most likely in the fourth century CE [AD]."  The cave also contains dozens of carved niches used to raise doves and numerous other symbols, some as yet to be identified.  
The hikers who discovered the cave will be rewarded for reporting their find to the Antiquity Authority by receiving a good citizenship certificate and by being invited to participate in archaeological surveys the Israel Antiquity Authority will be conducting in the area.